23 Apr

Virtual learning session #3: Remote Leadership & Virtual Collaboration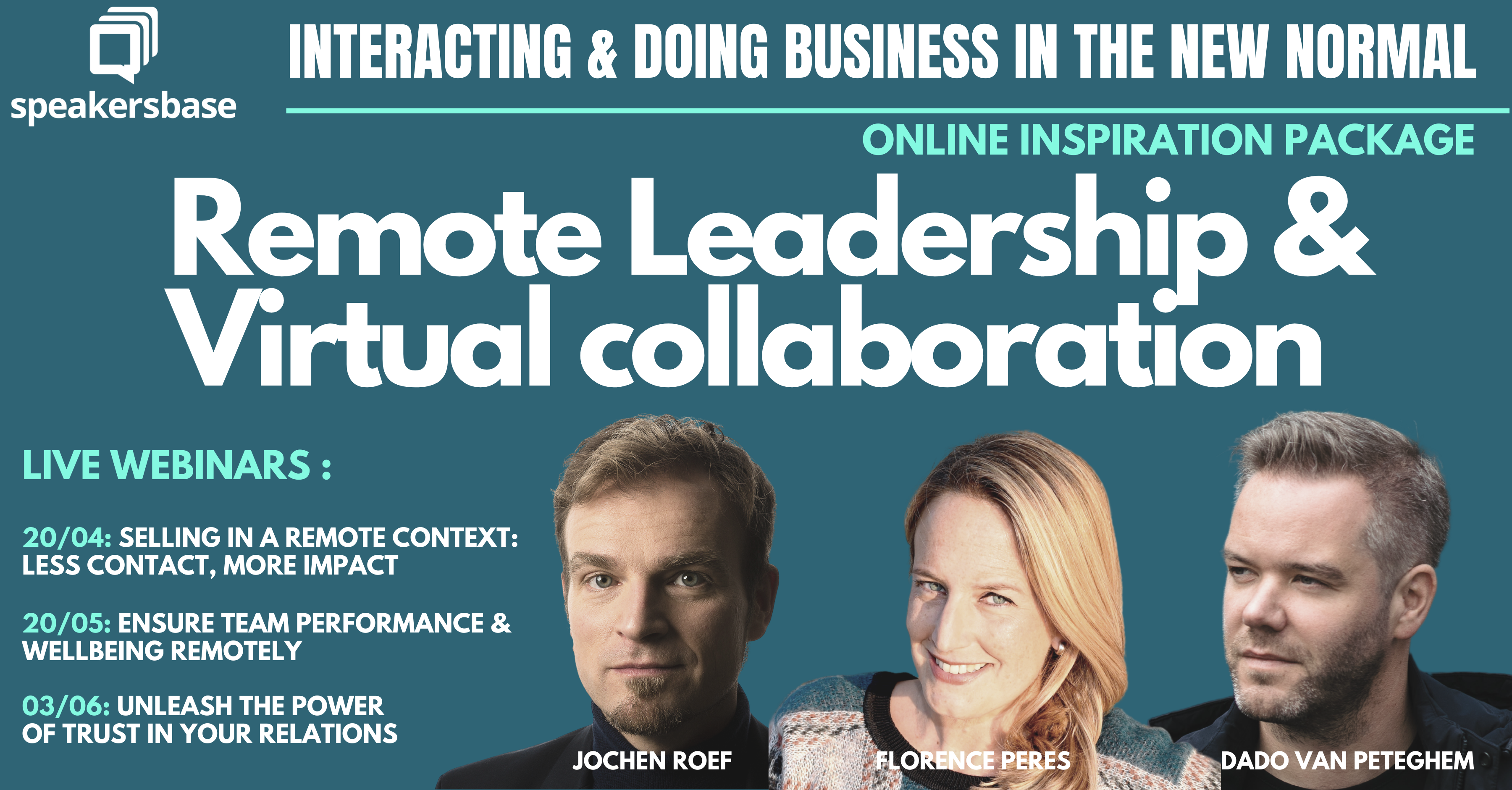 We are delighted to propose a program on Remote Leadership & Virtual Collaboration to CUBE's members.
We are convinced that this virtual learning serie will offer valuable content that will help CUBE's members' leaders to better manage their business and their collaborators remotely.
We have clustered the sessions around 3 dimensions: 'your clients', 'your co-workers' and 'your partners';
How do you engage with all of them, how do you manage and collaborate and which are the right accents to place in a remote or virtual context ?
Workshop 3: Unleash the power of trust in your relations by Dado Van Peteghem
Trust is the social glue that holds business relationships together.
Business partners who trust each other spend less time and energy protecting themselves from being exploited, and both sides achieve better economic outcomes in negotiations.
But, how do we decide whether to trust a potential partner?
Especially in this remote context, because we can't just keep winging it until things go "back to normal."
When it comes to building relationships with colleagues, customers, suppliers, partners,… trust is vital because this is what leads to better organizations.
Get to know how to build trust in today's virtual world!
Hemingway once said: 'you only know if you can trust someone if you trust someone'.
Trust in business is not always easy to find and even seems like a paradox sometimes. But if you want to succeed in the business world of today, trust is a crucial concept to understand and to radiate towards your employees, partners, and clients.
You'll learn the key ingredients for more trust in business relations and how to set the first steps in more trustworthiness.
Dado is a founding partner at the transformation advisory firm Scopernia, giving more than 100 speeches a year on topics as digital transformation, innovation, trust and ecosystem thinking.
Dado studied Communication & Computer Sciences and is a published author of 3 business books: "Digital Transformation" (2014) with Jo Caudron, "Corporate Venturing" (2018) with Omar Mohout and "Metasystems" (2020) with Nils van Dam. Dado actively helps organisations with their innovation vision and strategy.
Practical information
Date: June 3,2021
Time: 12:00 – 13:00  pm
Registrations for this event are exclusive for CUBE Members.
Pricing: € 125 (excl. VAT) with a minimum of 7 participants.
Register