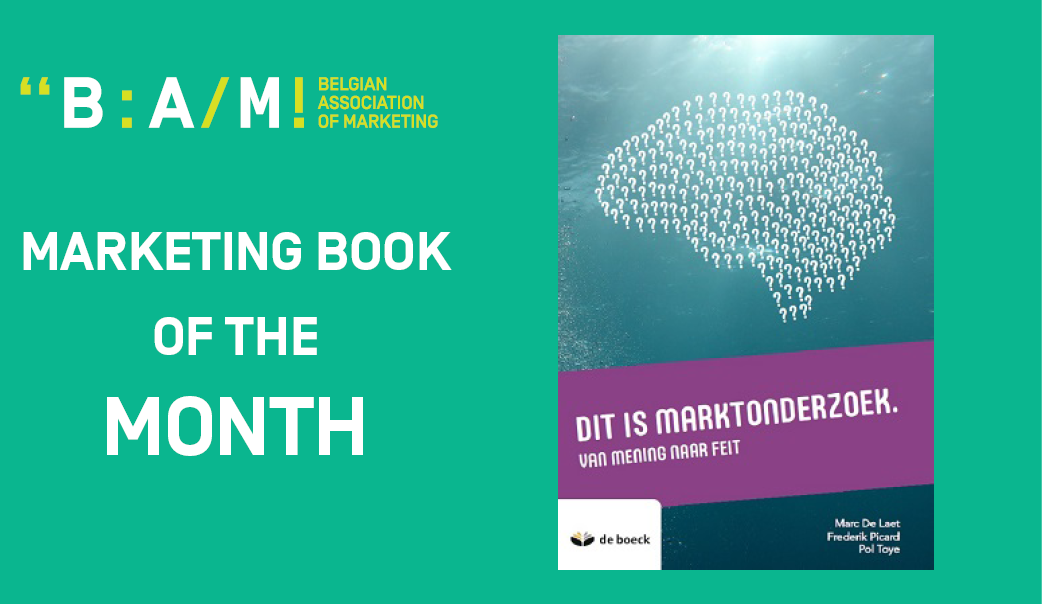 26 Oct

BAM Marketing Book of the Month: "A good foundation for soon-to-be market researchers"

'Dit is Marktonderzoek. Van mening naar feit.' That is the ambitious title of the book by authors Frederik Picard, Marc De Laet and Pol Toye. It is also the successor to 'Marktonderzoek in rechte lijn'published in 2014. Tom De Ruyck, Managing Partner at InSites Consulting and president of trade association CUBE, read the book and gave us his opinion.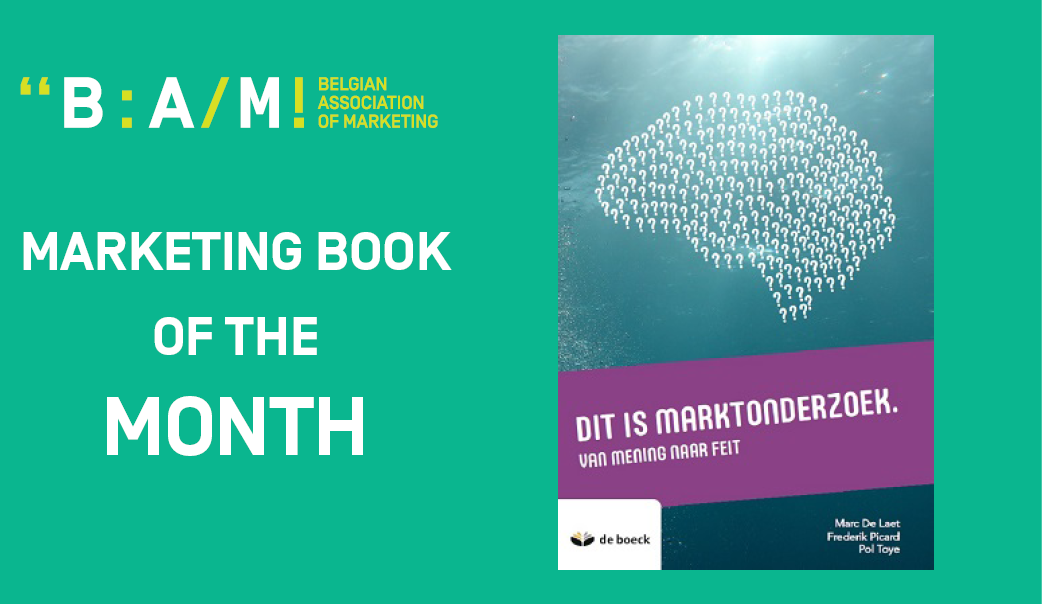 For whom is this book intended?
First of all, I think it is a good textbook that can serve as a guide for students taking market research courses. In addition, it is also aimed at people who want to learn the basics of market research. I am thinking of a marketer who has no experience with market research, but wants to learn about it.
What do you think of the book?
The authors give a good and accurate process of what a thorough market research looks like: the desk research beforehand, the objectives, analyzing the stakeholders, the modus operandi of quantitative and qualitative research, the reporting and how to get added value from it, … That traditional market research is very well framed in the book in a more strategic context.
The book provides a good foundation. It is still that basis that every researcher or marketer needs when he comes into contact with market research.
The new methods could be covered a bit more if you publish a book with this title. It does cover digital qualitative research, but that's about it as far as digital goes.
What digital techniques used in market research firms today are you missing in the book?
The authors provide a nice overview of the various data collection techniques, but as far as digital is concerned, I am left hungry. Social media monitoring and analysis have been around for a while anyway, so they could be included.
Within online qualitative research, you can also distinguish between focus groups, communities and ethnographic research. I also miss that observational component somewhat. Whether they had to go so far as to include everything to do with data analysis, artificial intelligence and modeling in this book, I don't know. Gosh, by the way, maybe they are more like topics for a more specialized edition.
There are currently many open positions in market research firms. Does the book make enough sense to work in the industry?
I think the book is well written and designed, but innovation is not sufficiently covered in my opinion. Fortunately, there is ample focus on contributing to a company's strategic decision. Market research is an integral part of your business operations and helps make correct, informed strategic decisions. Along with innovation, it is an element that can bring market research out from under the dust and make it sexy.
Our profession has evolved significantly. In this industry anno 2022, it is not about market research but about creating consumer or customer insights. Market research is not an end in itself but a means to translate that into strategy in consultation with the customer. In the sector, we have to get rid of the image of a researcher who spends all day with his nose in the data. We have actually become much more consumer insights consultants.
Don't you have any ambition to write a book yourself?
No, I know how much work goes into it. The authors who wrote this book are also teachers, so I understand that they approached this as a kind of handbook for prospective market researchers.
If it is used as part of a course, though, I would recommend supplementing it with guest lectures from market research professionals. They can then explain how the profession is evolving, interpret the digital transformation and offer more real-world success cases.
By the way, at CUBE, the trade association of market research agencies, we are in favor of this as part of our program to get students excited about our exciting industry!